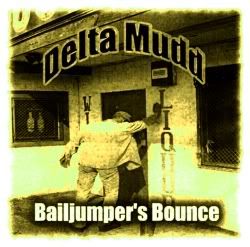 I've really been enjoying the CD from
Delta Mudd
, a new project consisting of two old friends who both used to be members of
The Yard Dogs
out of Denton, TX. Pat "Jawbone" Kenyon, on harmonica & vocals, along with Brian Wilkinson on guitar and vocals, and for this offering...bass and drum tracks as well, are certainly no strangers to each other, or to making good music. This experience & familiarity shines through in each tune as they progress one to another.
Many influences are evident throughout this effort including country, blues, and even a little rockabilly can be heard from time to time. Brian is quite the skilled guitarist, demonstrating "touch" as being as important as
"technique"...I really enjoyed his guitarwork. His vocals were very satisfying on the slower numbers, bringing to mind the dance hall "crooners" that are so prevalent in the Texas & Oklahoma area. Jawbone is quite proficient on the bluesharp, showing great sustain & innovative chops. Vocally, he reminds me alot of Omar Dykes, of
Omar & The Howlers
fame, with a raspy, yet powerful quality that seems suited for this kind of music. His is the sort of voice that lends itself to tunes that have that "story-telling" aspect to them.
Track One-
Voodoo Thang
: A free-rolling song about a man in a relationship with a controlling woman with ties to the world of voodoo. Fun Song.
Track Two-
Drag The Line
: Country shuffle with that lazy rythm and smooth vocals that, anchored by the long sustains on the blues harp, transports you to the dance halls and honky-tonks of Texas.
Track Three-
Delta Mudd
: Upbeat, well-moving tune with a foot-tapping tempo that makes you want to dance.
Track Four-
A Little My Way
: Slow crooner with a catchy tune, perfect for a nice slow dance with one's sweetheart.
Track Five-
Woman=Salvation
: Song that equates the love of a good woman with redemption...solid harp work by Pat on this one, and Brian's fretwork fleshes this song out.
Track Six-
Hurricane Love
: "Love may seem like a gentle rain, but it's strong like a hurricane...". I really like the lyrics to this one. Solid rythm with smooth harmonica phrasings backing the track up nicely.
Track Seven-
Bailjumper's Bounce
: Light-hearted blues boogie with an infectious beat to it that grabs you up & carries you along.
All in all, a solid offering, especially for a tandem of musicians who have lacked a consistent rythm section behind them. I'm impressed with the musicianship displayed here, as well as the chemistry that's obviously present between these two artists. It's been said that "Familiarity breeds contempt"... but in this particular instance, I believe it has resulted in creativity.
I look forward to more from these two. With the addition of a competent & steady rythm section, more public appearances... I really believe it won't take long!